Learn more about each project and my process
Experience Design on and beyond the screen
Augmented Reality
PORTFOLIO
DESIGNING USER EXPERIENCES
ON & BEYOND THE SCREEN
Smart Toothbrush for Kids
Saving smiles :) DESIGNING WITH GAMIFICATION FOR BEHAVIOR CHANGE
Designing an experience that encourages kids to brush their teeth multiple times a day through gamification.
SKILLS: design of userflows, application of game mechanics, UML for 'app' development, liaising with engineer in Mandarin
TEAM: Product design concepts and renderings by the amazing Matthias Reisenberger & Chris Lahner
Court 16
AMERICA'S first indoor tennis club for kids
A space and sports program for hundreds of kids to smile on the court. Collaboration with Lacoste to create the first season's uniform.
SKILLS: User and market research. Rapid prototyping. Launching a start-up from the ground up.
TEAM: Architecture by Matias Honorato & Paul Coughlin, graphic art by Alex Lins.
BLACKBARRETT
EXPANDING A BRITISH BRAND FROM JAPAN
Relaunching BLACKBARRETT from a Japanese centric brand to a greater regional market by launching a responsive website to fit the diverse screen widths of the SE Asia Region

SKILLS: Wireframing for responsive web design, presenting to brand stakeholders, visualizing interaction options for lookbook.
TEAM: Fashion editorial for web design by Sally Chung
CLUB 21 GLOBAL
A DIGITAL AGENCY FOR A NETWORK OF FASHION BRANDS
PROJECTS: Global Website, Membership Rewards, CRM, Mobile App
A level of digital quality to represent 500+ fashion brands distributed throughout Asia.
Managed a team of Singapore based developers and New York City designers to win, design, develop and launch:
Club 21 Global Website
Customer Relationship Management for Club 21's reward program - mapped the existing user flows for CRM sign up.
Club 21 Mobile App
Social Media for a region with a range of languages and platform usage. Across a region where Google Plus is the main social connectivity in one country while Google and Facebook are legally not accessible in another country.
To understand the vast brand portfolio and diverse clientele, research was performed at CLUB 21's stores in Singapore, China PRC, Hong Kong, and Thailand.
Collaboration across borders, disciplines and timezones
ck Calvin Klein Facebook App
GIVING A FASHION BRAND AND FANS A VOICE
Defining the ck Calvin Klein brand in a new market by giving the brand a stronger presence in Southeast Asia on social media.

SKILLS: Wire framing, defining user flows, site maps, presenting wireframes, stylistic directions and full designs to receive approval by client's global HQ.
TEAM: Fashion editorial for web design by Sally Chung, design strategy for fashion by Jennifer Choi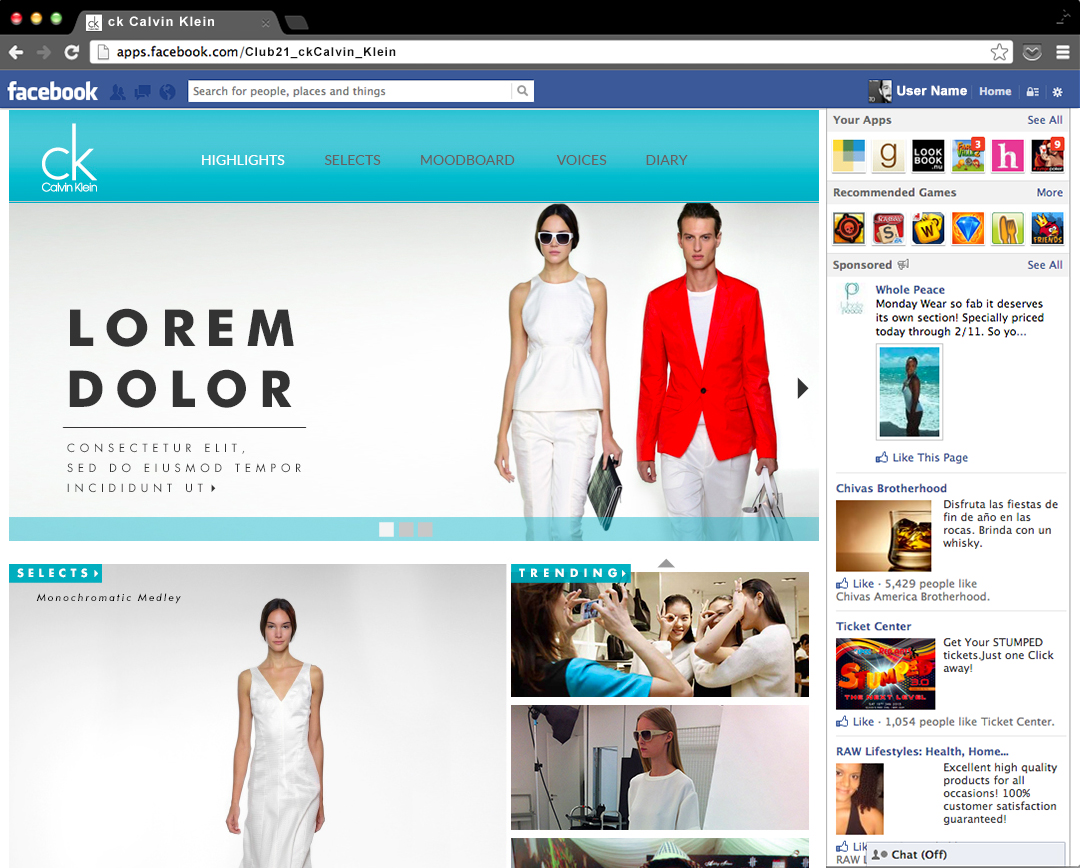 Ninja Gaiden 2
REGIONAL launch
To launch Ninja Gaiden a series of contents lead to the game's release by one user encouraging and challenging their friend to a player versus player match. Contest debuted in S. Korea, Hong Kong, Taiwan, Singapore, and India. Every contestant that signed up receive exclusive content in the form of a screensaver and "kill counter". The three top performing players received tiered XBOX 360 and Ninja Gaiden 2 game sets.

SKILLS: lead campaign concept development (competition mechanic for regional campaign), lead wireframing, UML, presenting the campaign to each country's brand ambassadors and distributors.
TEAM: Development by AKQA San Francisco